Home Learning
At Co-op Academy Leeds we have high expectations of all of our students. This is because home learning has the capacity to increase the progress students make and develops good study habits which will benefit students throughout their academic career.
Aims of Home Learning
To develop knowledge and understanding

To identify gaps in knowledge and understanding

To provide a vehicle to close gaps that have been identified through formative assessment

To develop academic culture and habits

To encourage student self-responsibility and raise achievement.

To allow students to maximise their potential
Home Learning Principles
Home learning is an integral part of our curriculum offer, not an add on

All students should receive 1 – 2 hours of home learning per day

Sanctions will not be used for non-completion – the focus will be on praising those who complete the work and supporting those who don't to barriers to completion.
---
Home Learning Expectations
Key Stage 3
1 hour per week for English, maths, science, history and MFL. This home learning will be completed in students' pink home learning book and utilises the knowledge organisers in their Phase Planner.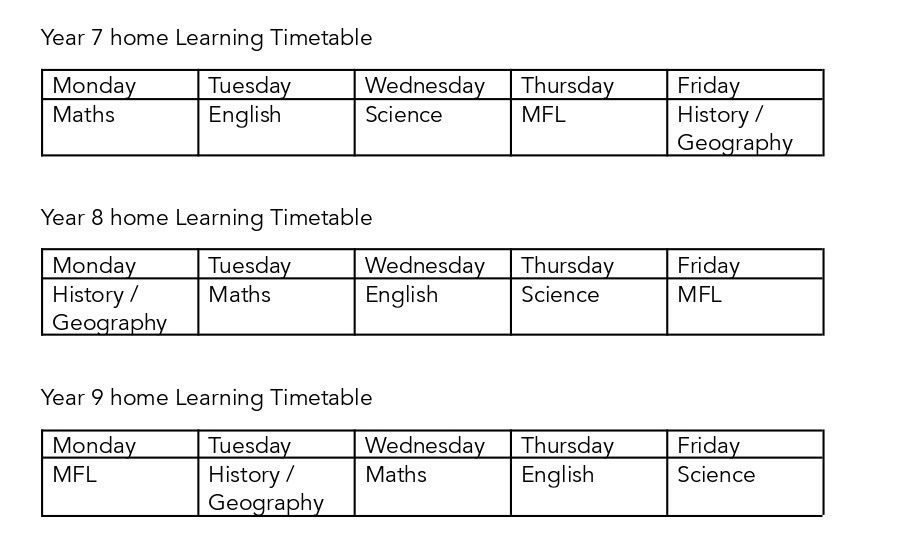 30 mins per 2 hours lesson time in other subjects
KS3 Home Learning Instructions
Students in years 7, 8 and 9 are set home learning which utilises the knowledge organisers in the back of their phase planner. Each subject is allocated a day (as per the home learning timetables) and students are to 'look, say, cover, write, check' the information from the correct box on that subject's knowledge organiser. There is a page in their phase planner which will tell you which box it is that week, it does correspond to the week we are in (e.g. week starting 5.9.23 was week 1, week starting 11.9.23 was week 2).
Look, say, cover, write, check is a great strategy for memorising facts. The stages are described below:
Key Stage 4
2 hours per core subject per week

1 hour per option subject per week
Google Classroom
All of your class work is available on Google Classroom.
Watch this video to explain how to log in and use Google Classroom, and contact school if you are struggling.

Completing Assignments in GC
Guidance
Click here for RM Unify
Your username is your email (e.g. firstname.surname@cal.coop)
You will see a screen full of different squares – one of them accesses Google Classroom.
In the Google Window click on 'Sign In' and then select Google Classroom.
Enter your login details (for example email: 17jsmith@coopleeds.co.uk) and password.
If logging in for the first time you need to accept the license agreement and select Student Profile.
Once logged in you'll see all your classrooms and can pick the one you need!
You can also access Google Classroom by downloading the App and logging in.
PSHCE Resources
Useful links
If your child is finding some of the work booklets too hard, please have a look at the websites below: